How Should Cycling Shoes Fit?
There are many types of cycling shoes these days, designed specifically for the type of riding you want to do and whether you want to be clipped into your pedals or not.
In the bike world, these clip-in pedals and shoes are ironically referred to as "clipless". Over the past 20 plus years, clipless shoes and pedals have been the popular choice for avid cyclists, as they help transfer more power to the pedals. But, as cycling has grown, more and more riders are preferring the ease and comfort of flat pedals over clipless pedals. If you're not racing, it's not really necessary to try to get every bit of power out of your pedaling. And, flat pedals make it much easier to take your foot off when needed. With the rise of flat pedals, especially for mountain biking, we now have specifically designed flat pedal shoes. It may seem like you can use any tennis shoe or skate shoe with flat pedals, which you can…. But, these flat pedal shoes actually make a big difference. We'll dive into that below.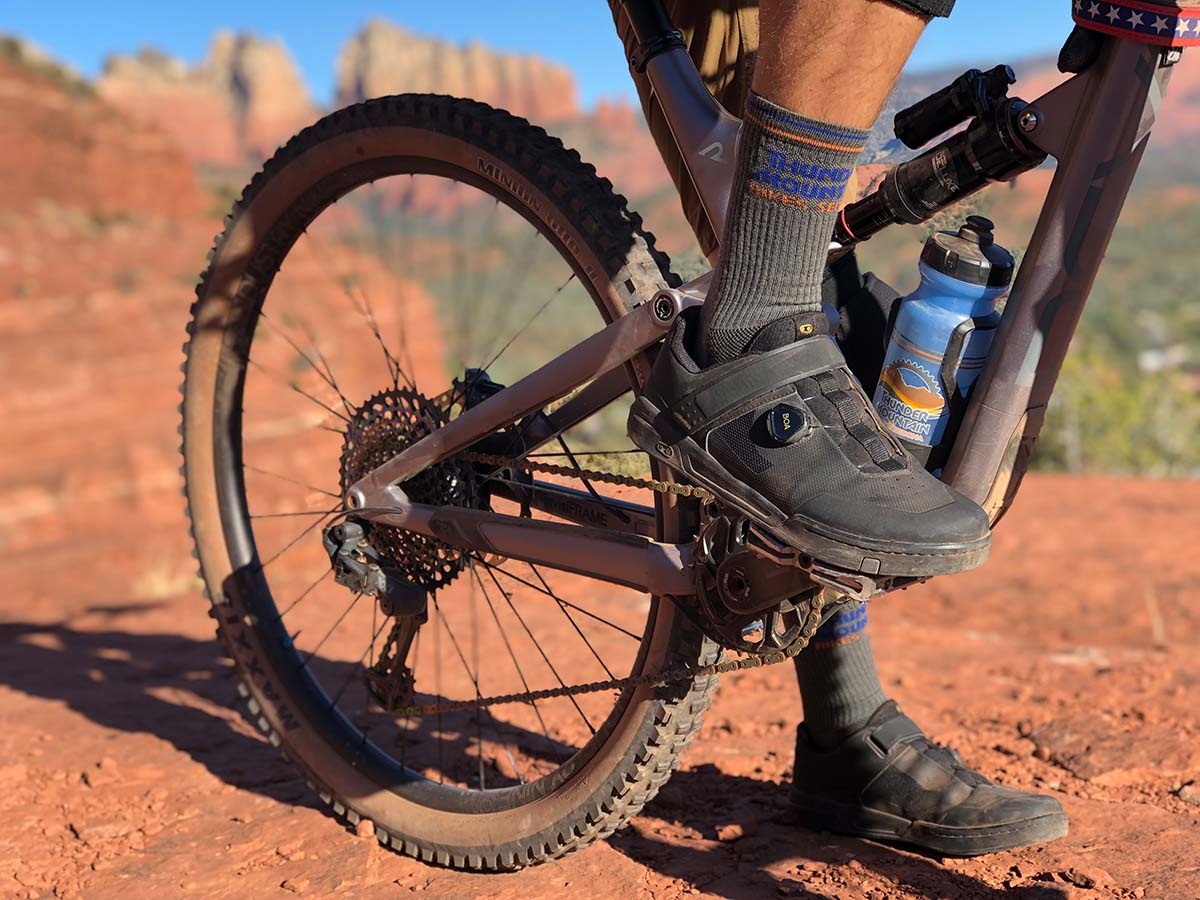 So, How Should Cycling Shoes Fit?
Just like hiking shoes, bike shoes should be snug but not too tight. Make sure that you have enough toe room to wiggle your toes. A good test is to try standing on a steep incline, if your toes remain comfortable and don't slam into the front of the shoe, then most likely you have a good fit. It's also important to ensure that your heel is not slipping in the shoe, and stays snugly in place when walking around. Most tennis and running shoes are expected to get a bit loose after some wear, but don't expect this from cycling shoes. These are meant to be stiffer than most shoes by design.
Another important aspect to look for is having the ball of your foot sit on the widest part of the shoe. You'll want this wide part of the shoe to line up with the pedal axle, in order to give you proper cleat positioning for clipless and proper foot positioning for flats. This all leads to more stability on the bike, and better power transfer to the pedals. If you're ever not sure how to put cleats on cycling shoes, simply lining them up with the widest part of the shoe is a good rule of thumb.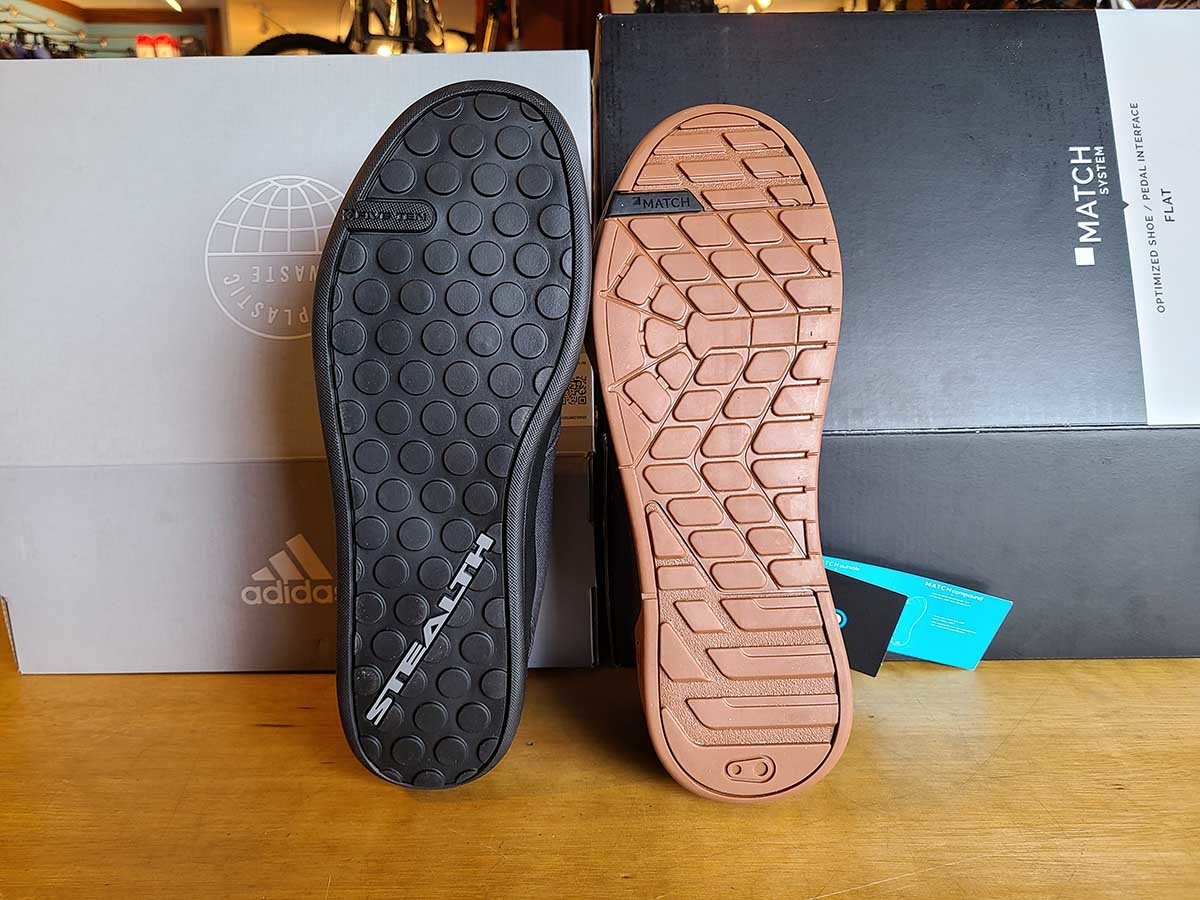 Width is also important to consider when fitting your cycling shoes. Some cycling shoe brands come in different widths as well as lengths, and if you have certain needs with width, you should consider trying on a few brands. If you require special insoles, make sure to bring these when trying on cycling shoes, as these can greatly change the size you think you'll need. All of this adds up to answering the question of where to buy cycling shoes - at your local bike shop!
Popular Mountain Bike Shoe Brands
Most likely, the Sedona bike shops will carry a few of these brands, but not all. These brands make both cycling shoes for men and cycling shoes for women. At Thunder Mountain Bikes, we primarily carry Five Ten and Crankbrothers shoes. The main reason for this? Not only because these shoes perform great on the bike, but because they perform great OFF the bike. With Sedona mountain biking being so rocky, it's important to be able to walk your bike over the rocks from time to time. Having shoes that grip the rocks, instead of slipping all over the place, will make a huge difference in navigating the terrain. With those non-grippy cycling shoes, it's actually scarier to walk the red rocks than it is to ride them! Our favorite grippy soles have been Five Ten and Crankbrothers, but other brands include Shimano, Giro, Pearl Izumi, Ride Concepts, Specialized, Sidi, Bontrager, Northwave, just to name a few.
Clipless vs Flats for Riding in Sedona
Over the years, Flat pedals have been gaining traction in Sedona…. No pun intended! A big reason for this trend is not just from being able to take a foot off easier, it's because of the Flat pedal shoes. In the past, clipless shoes have had a huge advantage in foot support while cycling because they are so stiff and rigid, it keeps your foot from flexing over the pedals. When your foot is flexed for a prolonged time, the muscles in your feet wear out and this leads to discomfort or pain. Shoes designed specifically for Flat pedals are built with stiffer soles to really support the foot while cycling, which makes a huge difference over normal tennis shoes and skate shoes. The second important feature for flat pedal shoes is utilizing a grippy rubber to prevent your feet from slipping off the pedals during rough sections of trails. The best example of grippy soles is with Five Ten shoes, using their proprietary "stealth" rubber made for rock climbing shoes. These have been the best in the industry, and a big reason why Thunder Mountain Bikes carries Five Ten over other shoe brands.
With flat pedal shoes offering these performance benefits, flat pedals have become the majority choice for Sedona locals and visitors alike. What it comes down to is personal preference, as clipless will always have an advantage with power transfer and getting a little more ooommph with each pedal stroke. On the other hand, Flats offer more overall comfort and freedom to move your feet as needed.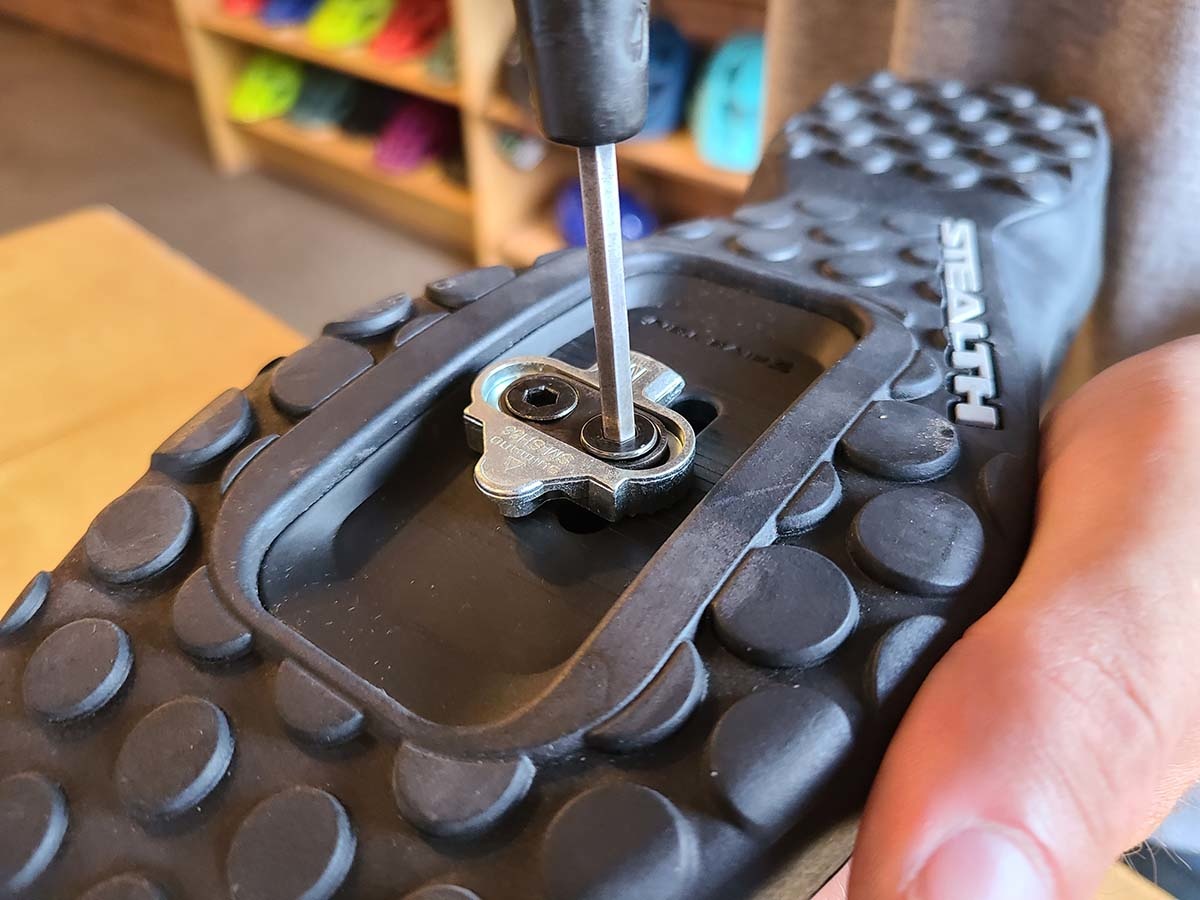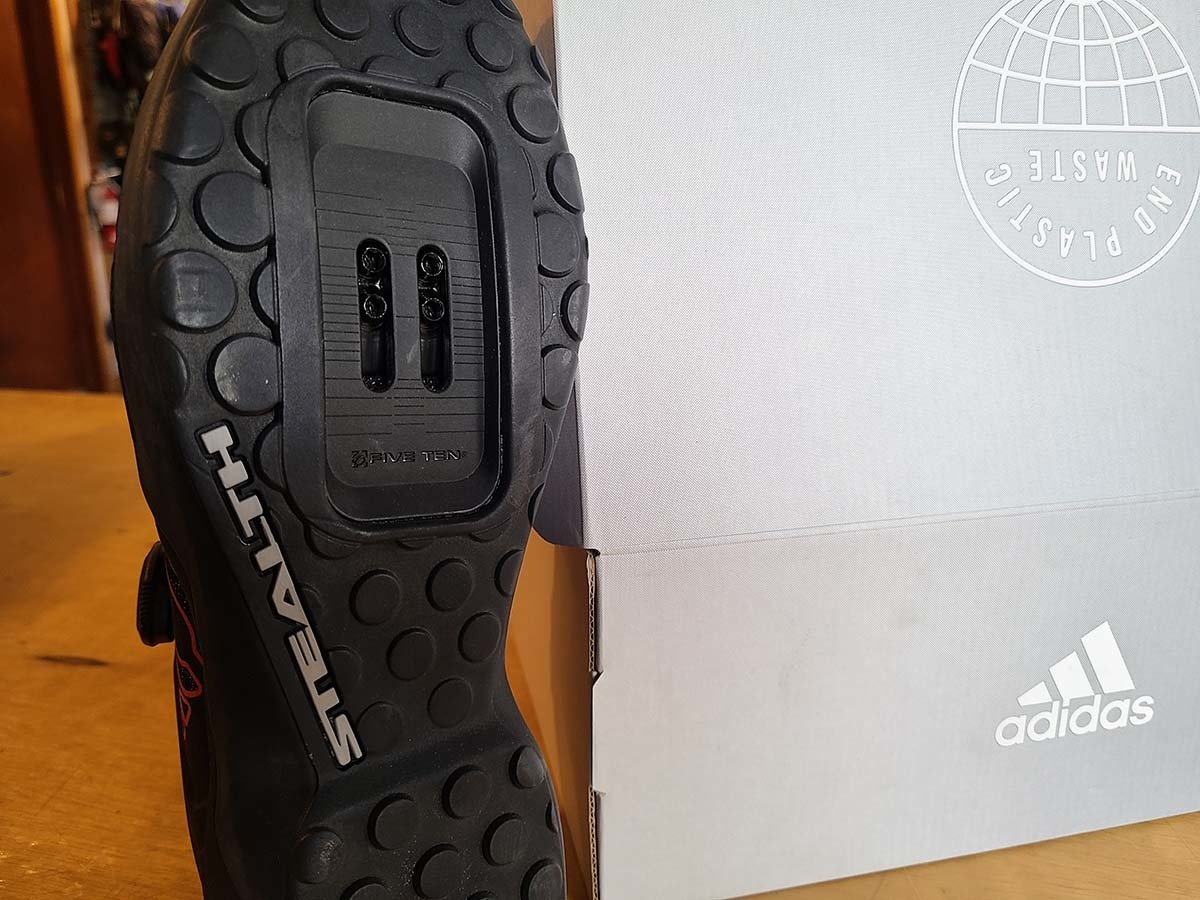 Thunder Mountain Bike's Favorite Mountain Biking Shoes
The staff at Thunder Mountain Bikes uses a variety of mountain bike shoes, with a majority using flat pedals and flat shoes.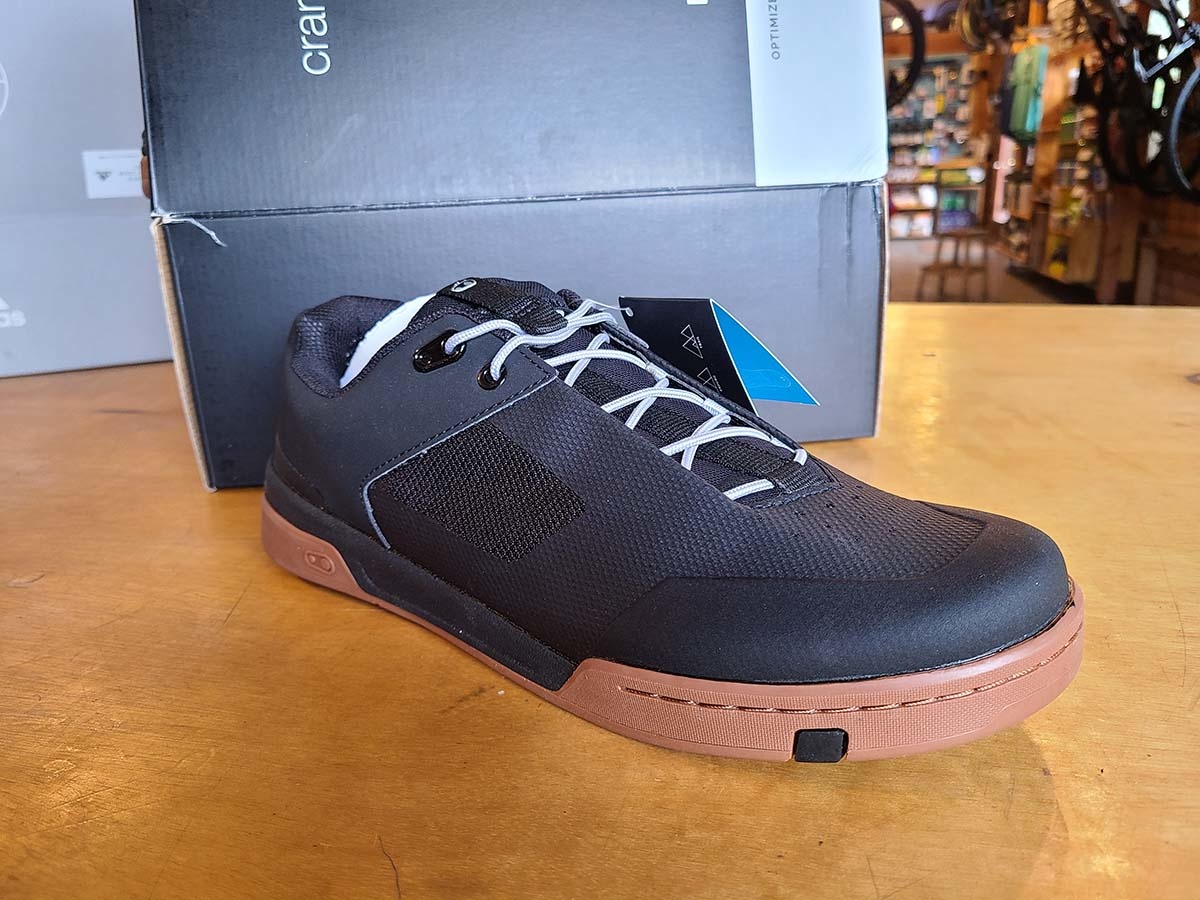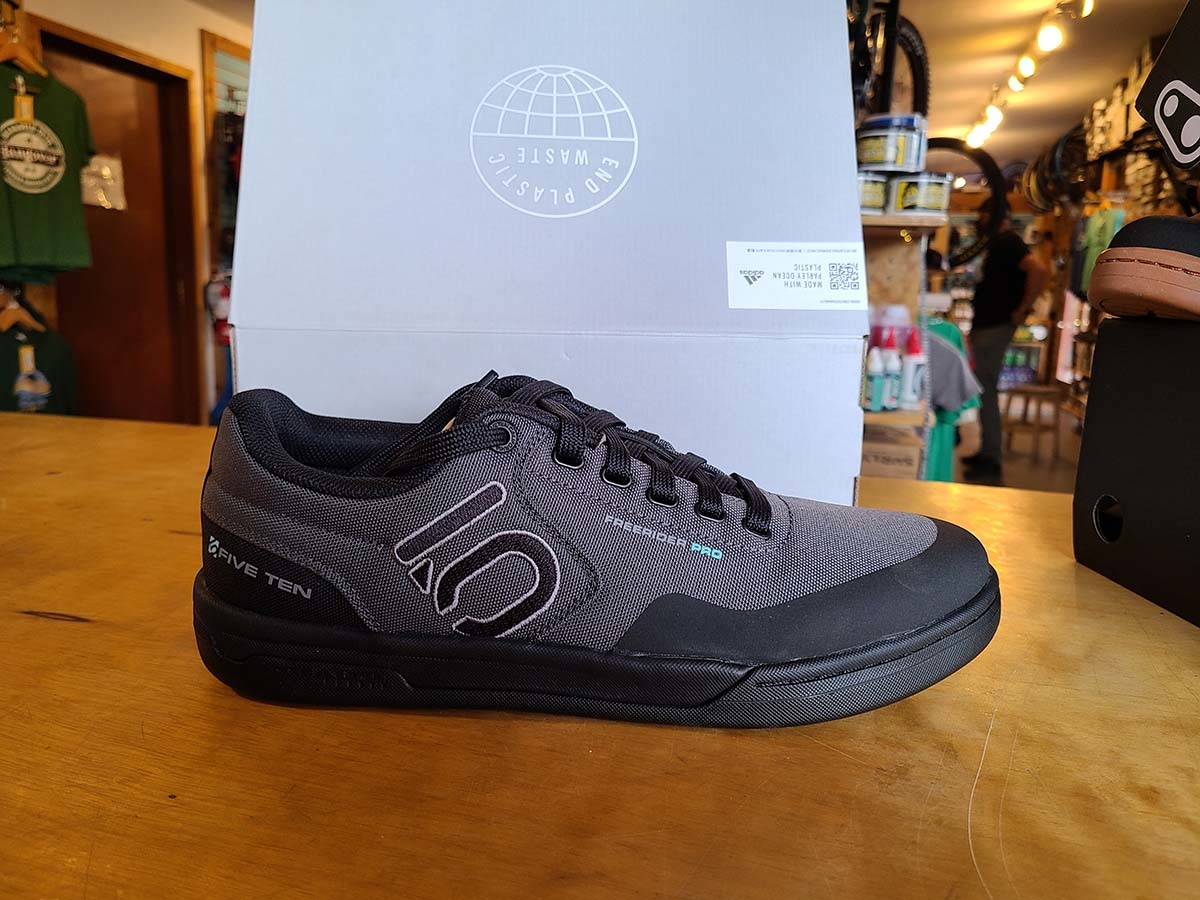 Here's a rundown of what bike shoes we use:
James - Five Ten Freerider Pro (Flats)
Michael - Five Ten Kestrel Pro (Clipless)
Woodruff - Five Ten Freerider Pro (Flats)
Jason - Five Ten Impact Pro (Flats)
Phil - Shimano AM9 (Clipless)
Ryan - Crankbrothers Stamp (Flats)
Dakota - FiveTen Freerider Pro (Flats)
Eric - Five Ten Freerider Pro (Flats)
Mason - Crankbrothers Mallet (Clipless)
Ben - Five Ten Freerider Pro (Flats)
Angel - Crankbrothers Stamp (Flats)
Carlos - Crankbrothers Stamp (Flats)
Chuck - Northwave (Flats)
Joanna - Ride Concepts (Flats)
Ian - Five Ten Impact Pro (Flats)

Conclusion
Hopefully this article helps your decision in fitting your next pair of cycling shoes. Considering that Sedona Arizona mountain biking is very rocky and technical, both Flat pedal shoes and Clipless pedal shoes come with grippy soles to help riders on and off the bike. Here at Thunder Mountain Bikes we stock all types of clipless pedals and flat pedals, these are available for sale in-store and webstore, as well as being available on our Sedona mountain bike rentals. The expert staff is happy to get you fitted to grippy shoes from Five Ten and Crank Brothers and paired with the right pedals for your needs, no matter where you live.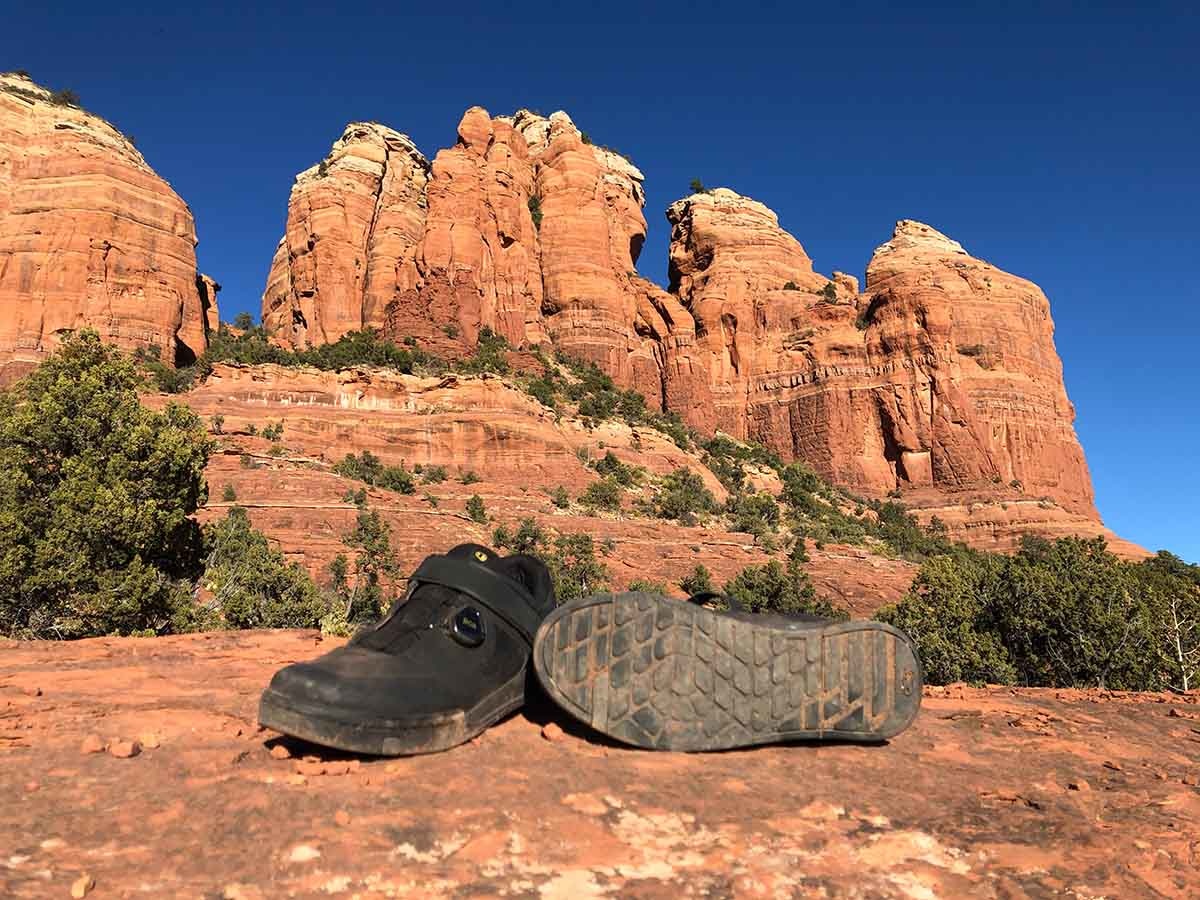 ---