Quick Trip? 48 Hours in Sedona, Arizona
The Ultimate Itinerary for Adventurous Mountain Bikers
Are you looking to pack in the best mountain biking trails possible in a short amount of time? Sedona, Arizona is the best place to do it!
A few significant factors make Sedona the ideal quick trip solution for mountain biking vacations in Arizona.
First of all, there are tons of trail options, all located close to town. This means you won't need to waste time driving or shuttling to trailheads. Everything is within the city and close to restaurants, grocery stores, lodging, etc.
Secondly, Sedona is only 2 hours from Phoenix, making it possible to fly in and head straight to checking off your bucket list of Sedona's trails.
Overall, the proximity to world-class trails makes Sedona one of the best mountain biking destinations in the US.
If you are flying into Arizona, skip packing up your bike! Instead, hit up the Sedona bike shops for a mountain bike rental.
Renting a mountain bike will save you time by not having to clean, unpack, and pack your own bike.
You can shred and return the bike dirty with no worries of cleaning it up.
Even if you are driving to Sedona, renting a mountain bike is an excellent opportunity to try out a higher-end bike.
Thunder Mountain Bikes has the best Sedona mountain bike rentals in the area. Plus, we make it easy to reserve your dream bike ahead of time, ensuring that it will be ready to roll when you get here. 
The majority of Sedona mountain biking trails are rated intermediate level. Depending on your experience, this rating may seem spot-on or seem harder than it is.
Overall, Sedona's intermediate-level trails are challenging, fun, and very rewarding for a wide range of riders.
For this itinerary, we will stick with intermediate-level trails, but as you'll see, Sedona trails make it easy to change up your route and try something new. 
Day 1:
Morning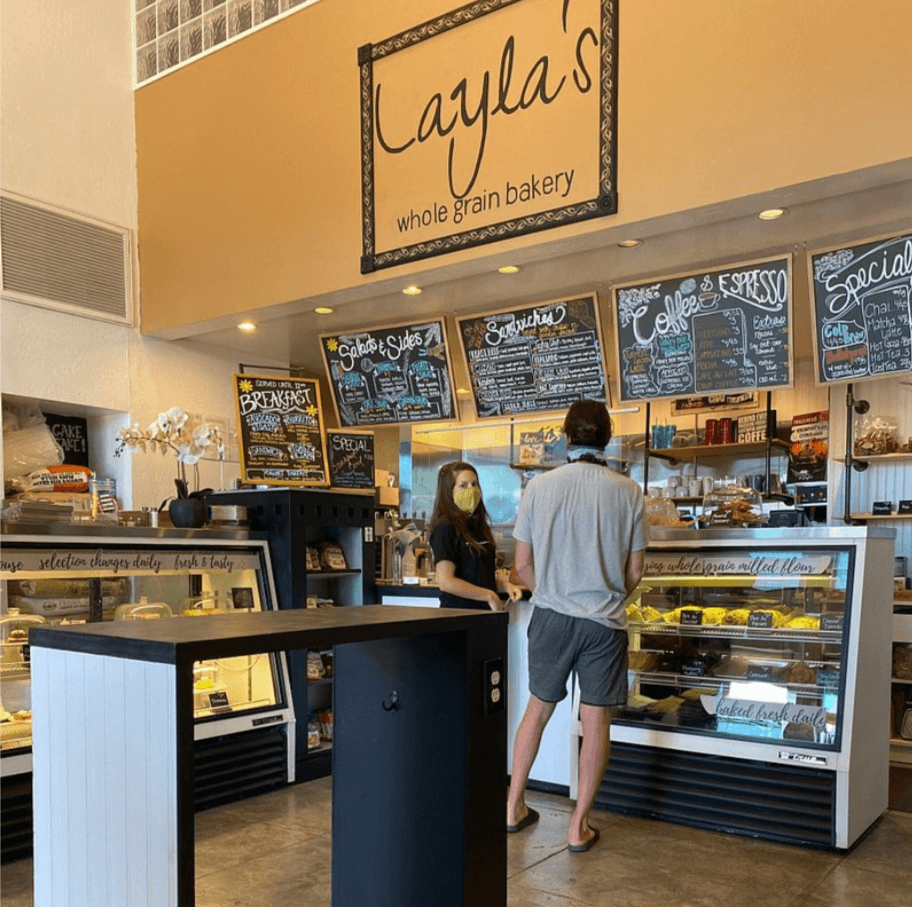 First up, grab a good breakfast and coffee before your big day!
Layla's Cafe in West Sedona is ideal, with a comfortable patio, fantastic coffee, and quick breakfast sandwiches or baked goods.
It's also located right on the corner of Hwy 89A and Dry Creek Rd - the same road you'll head up to get to your first ride!
If you still need to pick up your rental bike, Thunder Mountain Bikes is located just down the road on 89A and opens at 9 am. 
From Layla's Cafe, go 2 miles up Dry Creek Road to the Dry Creek Vista trailhead.
This first ride consists of stand-out trails like Chuck Wagon, Mescal, Aerie, and Cockscomb.
This ride will be about 16 miles, so make sure to bring plenty of water and snacks!
You'll encounter a little bit of everything on this route - rolling flowy sections, rock gardens, red rock formations, slick rock mesa's, the Mescal vortex, incredible views - it's all you'd expect from a top-notch Southwest mountain biking ride!
For a map and further details about this ride, click here to check out our detailed trail map on TrailForks. 
Afternoon
After 16 miles of riding, it's time to refuel your tank!
With Sedona being one of the best warm-weather vacation spots with mountain biking, now is a good time to chill out and rehydrate. Load up at the grocery store on drinks, snacks, and lunch.
If you're looking to check out a different side of town, head down to the Tlaquepaque Arts & Shopping Village.
This may be a very touristy spot, but it's filled with interesting gift shops and galleries to peruse, has lunch spots like El Rincon Mexican food and Oak Creek Brewery Grill, all within Mexican-inspired architecture with cobblestone pathways and decorative arches.
There's also a relaxing park with access to Oak Creek on the premises. 
Evening
Check out the Sedona Bike Park, located at the Posse Grounds Park in West Sedona near Thunder Mountain Bikes, for a late-day ride.
The Bike Park features a pump track, a tot loop, flow trail, bump-jump trail, and dual slalom track.
It's got something for everyone and is the perfect place for family mountain biking vacations.
In addition to the bike park, there's plenty of grassy areas to hang out.
And to top it off, Posse Grounds Park is perched on a small hill, giving backdrop views of Sedona red rock buttes in all directions.
If you have the energy for a second ride in the evening or prefer more trails than bike park, check out the Soldiers Pass trails.
You can even access these trails from the bike park!
Start with the Adobe Jack trail, which takes you directly to the Devils Sinkhole and Coffee Pot Rock.
Hang a right on Jordan and continue through some slick rock plateaus, then connecting to Ant Hill and Grand Central.
There's a short switchback climb to the top of Grand Central, with the "summit" giving you a magnificent 360 view of Sedona.
If you can time your summit with the sunset, it's a fantastic spot to view from.
From here, Grand Central is one of the best descents in Sedona, with a mix of rollers, rock gardens, fast cornering, and wash riding. This is about a 6-mile loop.
At this point, it's time for a beer and a tasty burger!
The very best in town is Sedona Beer Company. A great selection of locally crafted beers - from Kolsch to Pale Ales to IPA's to Stouts - they got it all!
In addition, the creativity they put into their burger menu is terrific. It's a fun environment with outdoor seating and friendly vibes.
As the saying goes, all good mountain biking vacations need a good brewery stop as well! 
Day 2:
Morning
Since you rode the northern end of Sedona on Day 1, it's time to hit the southern part of Sedona on Day 2!
Many of these trails are considered classics, as they've been popular mountain bike trails for a long time.
We recommend starting at the Little Horse parking lot, about 4 miles south of downtown Sedona.
Just like the first ride, this will involve linking a handful of trails together to make a big ride, trails like Llama, Slim Shady, Templeton, and Easy Breezy. Templeton is most notable as the trail just below Cathedral Rock, so you'll be sure to get some epic views on this red rock traverse.
Slim Shady is also a must-do, featuring roller coaster ravines, rock rolls, twisty singletrack, and a couple of very scenic red rock mesas.
For a map and further details about this ride, click here to check out our details route guide on TrailForks.
Afternoon
Next on the agenda is grabbing food and heading to Red Rock Crossing.
Lunch ideas include the unbeatable tacos at Tortas De Fuego, sandwiches at West Side Deli, or pack your picnic from a grocery store. No matter what you choose, get it to-go and bring it down to red rock crossing!
To get here, you'll need to pay to park at the Crescent Moon Ranch, located off of Red Rock Loop Road.
It's well worth the entry fee, as you'll have access to famous spots along the Oak Creek river, like Buddha Beach and various red "Slickrock" beaches.
Buddha Beach is a short 1-mile hike entirely covered by trees along the river, and if it's a hot day, these are excellent places to take a dip!  

Evening
From your parking spot at Crescent Moon Ranch, you can set out on another epic ride.
The goal with this ride is to end on Secret Slickrock trail, on an elevated red rock mesa overlooking the river valley below and Cathedral Rock towering above, all topped off with the golden light of the evening hours.
This ride starts with a tough loose rock-riddled climb up Old Post trail, traverses the wonders of Carroll Canyon, and descends the fast rock gardens of Ridge trail.
Ridge trail has some fantastic views, but there's little chance you'll see them due to how demanding this descent is!
Next up is a short link to Secret Slickrock, where you'll want to stop and soak in your last day of Sedona. From here, it's a short drop back to Crescent Moon Ranch.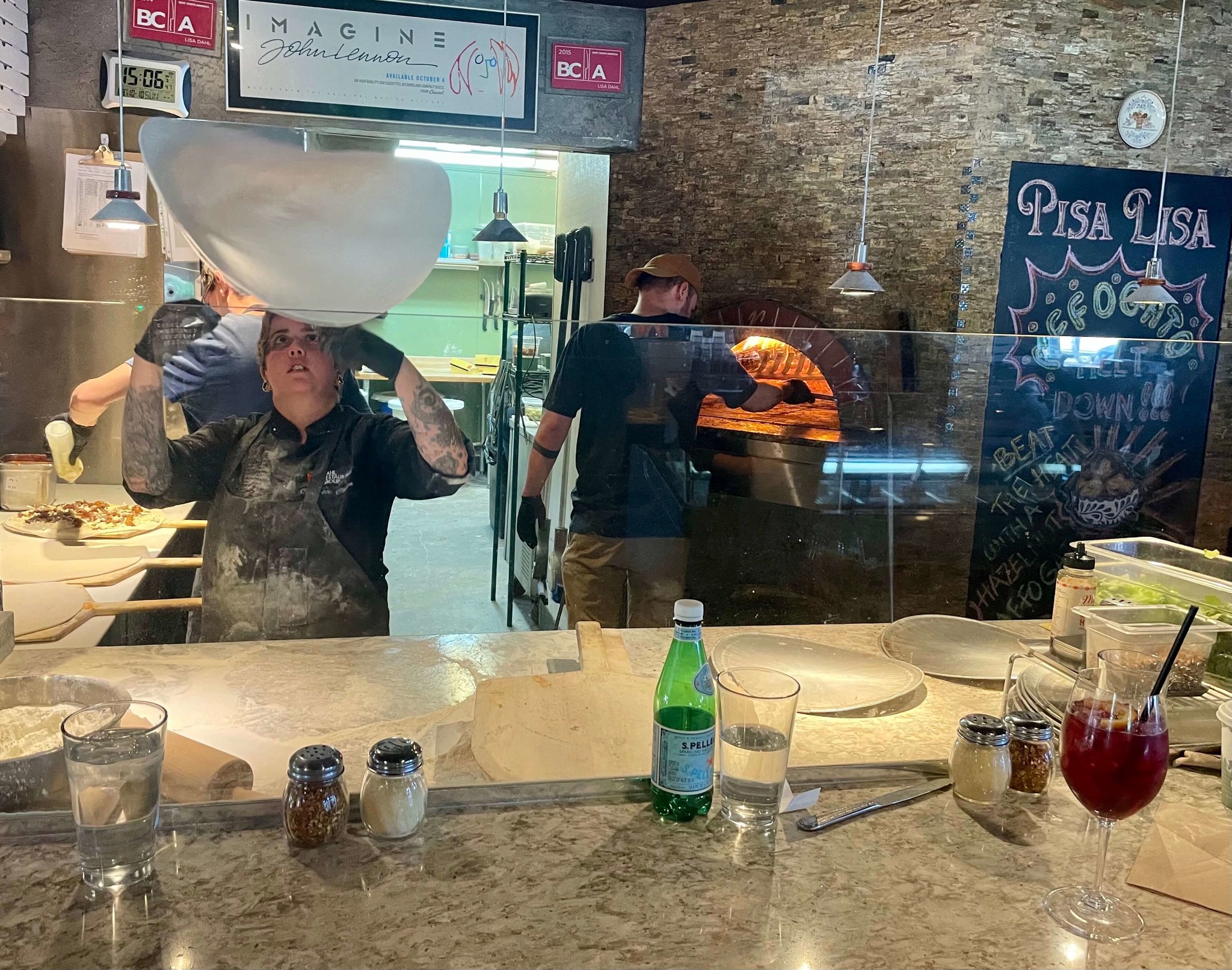 On your way back to town, hit up one of Sedona's finest pizza restaurants - Pisa Lisa.
This wood-fired pizza is authentic Italian thin crust pizza with creative toppings and fresh ingredients.
The ambiance is lively, and they even have a gelato bar for dessert! 
Conclusion
As you're looking around for the best vacation spots with mountain biking, hopefully, you'll find our quick trip itinerary helpful!
Sedona is packed with trails and views. If you're an advanced rider looking for black diamond and double black diamond trails, Sedona has you covered as well.
We could write an entirely new itinerary just for these trails! With so many options in Sedona, it can be challenging to narrow it down.
Our goal here is to give you some great ideas to pack in a 2-day trip, but ideally, you can come back again for a more extended stay. No matter how long you're able to stay in Sedona, we know you'll enjoy the trip!
---